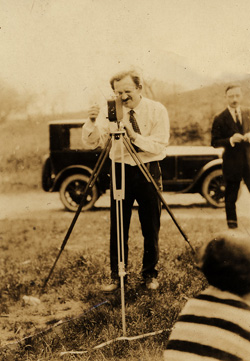 These video clips were shot by my grandfather, David Bloom, in the early 1920s. He used a camera known as the "Movette", advertised as "The Family Album of the Future". The Movette format (17.5 mm) was soon displaced by the many other film formats that were developed during the 20th century, and the family activities recorded on the five surviving reels of this film seemed destined to be lost forever.

However, in 2008, after a long and wide search, I found Russ Suniewick of Colorlab (a major film preservation facility just outside Washington DC), who was able to rescue the content you see here. They built a gate from scratch for their flying spot film-to-tape scanners, and subjected the films to an extensive chemical stabilization process (RePlasticization) which allowed them to be digitized in high quality. Thanks are due to Russ and his staff for their hard work and unique expertise which made this project possible!

The final editing was done by me, and the narration was done by my mother, Naomi Bloom Rothschild, who spent many hours identifying friends and family members who are long gone and who might otherwise be forgotten.